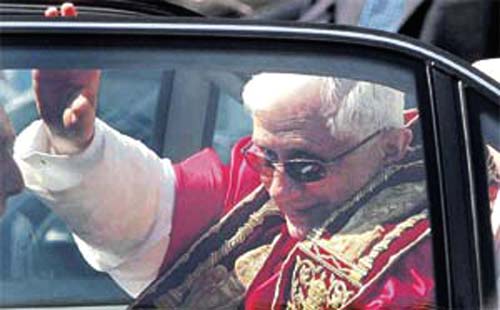 Sao Paulo- His holiness Pope Benedict XVI today arrived in Brazil to begin his Five day tour of the worlds most populous Catholic nation and declared "I wish to be left alone, this is a holiday trip for me and not a business trip."

The pope looking tanned and relaxed was whisked through airport security by team of burly minders and in to a waiting pope mobile.
His Holiness is believed to have told Government officials that he doesn't want any fuss made and they should treat him like any other tourist.

The huge crowds that turned out to greet the Nazi pope were to be left disappointed as he was whisked away from the airport immediately and did not engage in his usual meet the believers walkabout.
One woman who had walked all the way from Rio holding a box containing a three month old fetus was in tears at his rapid departure and brusque attitude.
When asked why she had brought the fetus to see the pope she said "I wanted to show him I fully support his brave stance on abortion and have had one recently in accordance with his wishes."
When it was pointed out that the pope is believed to be against abortion she shrugged and replied "Well I'm not Catholic anyway."

Pope Benedict is believed to be staying in Brazil for five days before flying on to Florida to do some cheap shopping and visit the areas many theme parks. After this he will then fly home to his small bachelor apartment in central Rome and resume his role as spiritual father to the world's one billion catholics.